Soak up the California sun by our tropical outdoor heated freeform pool. Rest and recharge in one of our comfortable lawn chairs as the refreshing ocean breeze passes by. Enjoy a meal and drinks with our poolside service (weather permitting). Our relaxing pool area features numerous seating and sunbathing furniture options, large umbrellas, rolling grass lawns, stunning ocean views and an oversized, reinvigorating Jacuzzi.
Whether you are looking for family-friendly poolside entertainment or a serene and private escape, our resort pool is the perfect choice for any San Diego day year round.
Dive In Movie
Spend quality time with the kids poolside on Fridays and Saturdays for our Dive In movie series. The show starts at 7:15 pm and will feature favorites such as Big Hero 6, Sing!, Finding Dory and more. Our poolside restaurant and bar, The Break, will also be open late serving kid-approved meals and adult beverages.
Where: Sheraton Carlsbad Resort and Spa
Dates: Fridays and Saturdays, May 26th through September 3rd
Time: 7:15 pm
Take a look at this year's schedule.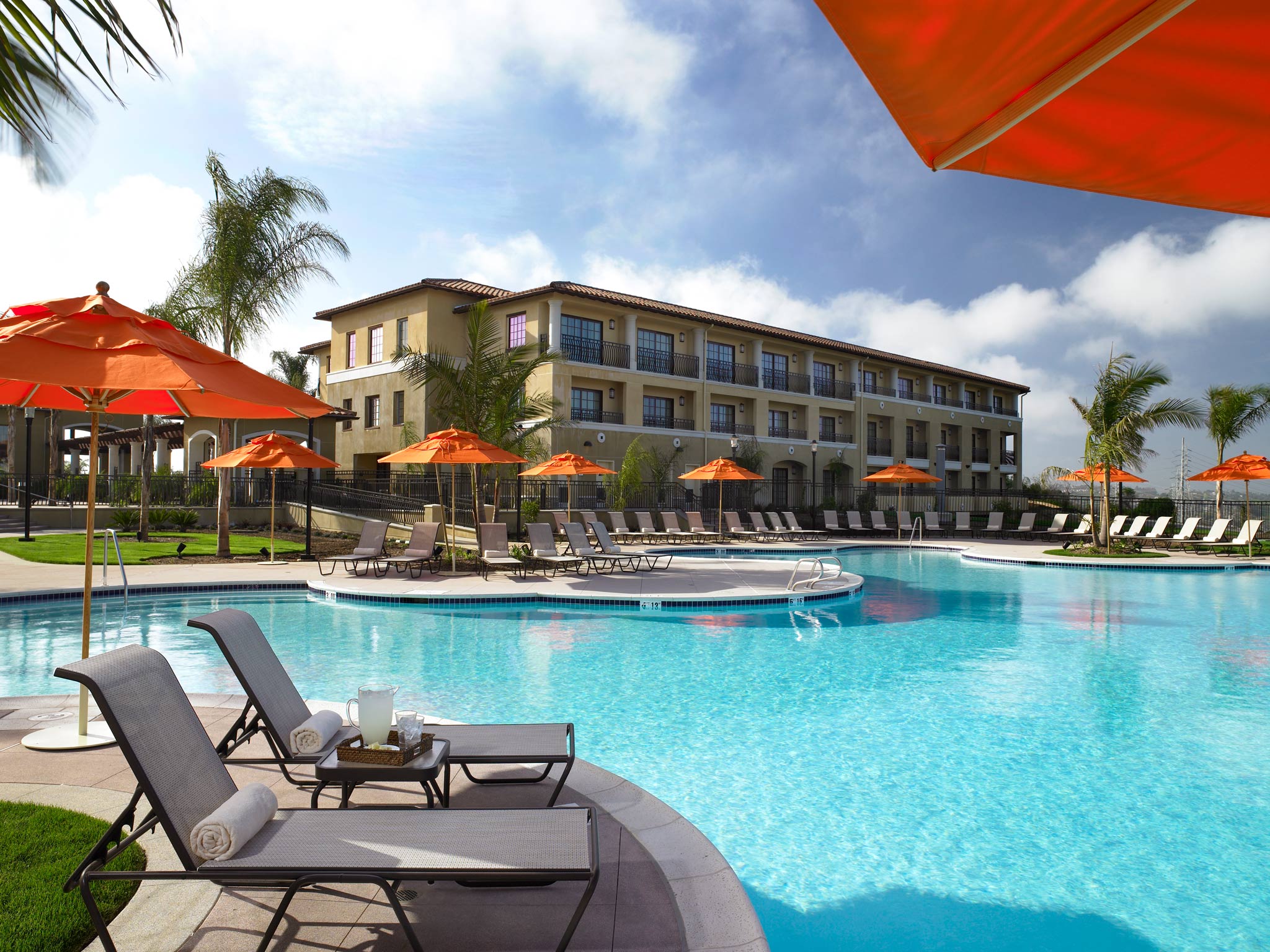 Movie Schedule
May 26th | Finding Nemo
May 27th | Finding Dory
May 28th | Moana
June 2nd | Secret Lives of Pets
June 3rd | Sing!
June 9th | Storks
June 10th | Frozen
June 16th | Zootopia
June 17th | Angry Birds
June 23rd | Big Hero 6
June 24th | Sing! (Will be shown at Cove due to function on Palm Court)
June 30th | Despicable Me
July 1st | Cars
July 4th | Toy Story
July 7th | Tangled (Will be shown at Cove)
July 8th | Mulan (Will be shown at Sheraton)
July 14th | Cloudy with a Chance of Meatballs 2
July 15th | Monsters University
July 21st | Lego Batman Movie
July 22nd | Toy Story
July 28th | Secret Lives of Pets
July 29th | Pete's Dragon
August 4th | Nine Lives
August 5th | BFG
August 11th | The Good Dinosaur
August 12th | Finding Dory
August 18th | Wreck-it Ralph
August 19th | Moana
August 25th | The Good Dinosaur (Will be at Cove due to function on Palm Court)
August 26th | Lego Batman Movie
September 1st | Kubo and the Two Strings
September 2nd | Pete's Dragon
September 3rd | Sing